If you're looking to create a website, you must be split for choice between Squarespace vs WordPress. Squarespace and WordPress are the world's leading web building platforms. Here, we will provide an overview of Squarespace vs WordPress, what both platforms have to offer, their features and tools, so that you can make an informed decision of which will suit your needs.
What is Squarespace?
Squarespace is a software-as-a-service website builder with a minimal monthly fee. It provides everything you need for your site, features and tools, templates, hosting e-commerce, support, a domain and content management system. There are two different versions of Squarespace, the standard version and the developer's version.
The standard version, preferred by majority of Squarespace customers is meant for and generally used by people without advanced web development skills.
Whereas the developer's version allows you to access and manipulate the source code, hence increasing the functionality of the platform. It is used by experienced developers who have significant web development skills.
If you're looking to build a website in a short amount of time with no particular learning curve and at a low cost, Squarespace should be your choice. It helps you create a professional looking website with your branding through the drag-and-drop functionality.
It uses a 'What you see is what you get' kind of a website builder. When you drag and drop text, pictures, links, or any other element into the website builder, it shows you what the page would look like when it's live. In simpler words, you can create any layout as per your desire simply by dragging and dropping content, without coding.
What is WordPress?
WordPress also has two versions, Hosted WordPress and self-hosted WordPress. Let's have a look at them separately.
Hosted WordPress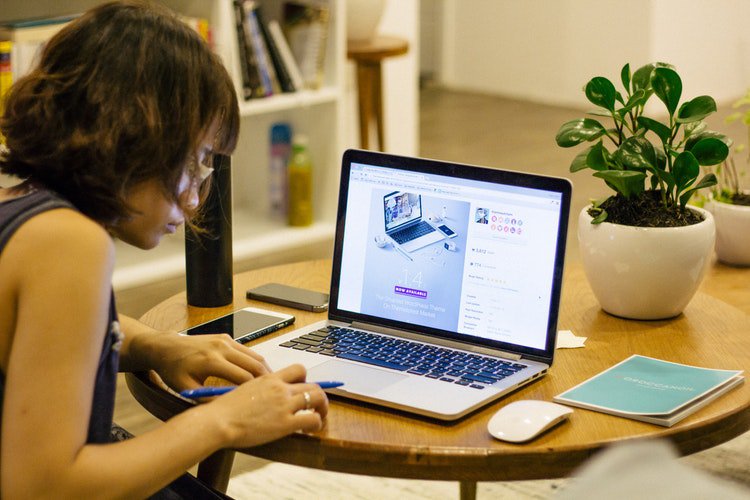 Hosted WordPress, to a certain extent, is similar to Squarespace. It is also a software-as-a-service website where you have to pay a monthly fee, and in return, you get access to a wide range of features allowing you to build a website and maintaining it.
However, it's not an 'all in one' situation. Users also have to use third party applications or tools like Ecwid or Shopify, for e-commerce features. It comes with the most attractive features with an additional fee. But this is not just a disadvantage, in fact, it has the edge over Squarespace because you can integrate the latter with apps and buy more templates.
Self-hosted WordPress
Self-hosted WordPress is the software which you install on your web server. The code behind it is available and can be easily modified because it is an open-source.
This means that if you build your site with WordPress, you can customize it the way you want, to a great extent. It is quite flexible and, in the hands of a skilled developer or through the use of a suitable plugin, it can meet the requirements and desires of any website.
WordPress can be installed on your server for free, however, there are certain domain registration charges, hosting costs, plugin out development costs that will add to your total cost.
Advantages and Disadvantages of WordPress
Advantages:
There are no limits for coders.
It can be tailored according to your abilities.
You have thousands of themes to choose from.
You have complete creative control.
Multiple basic features are already built-in.
Over 55,000 WordPress plugins.
You can install and update these plugins yourself.
Some plugins provide powerful SEO features.
Disadvantages:
Majorly relies on plugins and coding for customization.
There are less in-built features.
Mostly relies on plugins, which cost extra.
Some plugins are extremely flawed.
Has a rather hands-on approach to SEO.
Not beginner friendly.
Advantages and Disadvantages Squarespace
Advantages
Coding skills are not needed.
Easy to use, due to the drag and drop feature.
You can preview changes while making them.
You can switch templates anytime.
High level customization.
All features are in-built.
High quality features.
Minimal input needed.
Has built-in SEO tools
Disadvantages:
Restrictive, when compared to WordPress.
Relies on the in-built features.
Does not have a separate marketplace app.
Not 100% beginner friendly.
Squarespace vs WordPress: Which is More SEO Friendly?
Once you have perfected the customization and the designs and bit the features, apps, and made sure that the content is running smoothly, all you need is viewer traffic, for which you will need to work on your SEO.
Search Engine Optimization is one of the most important marketing strategy. It means implementing methods to get a higher ranking for your website in the search engine listings. If your website has bad SEO, you can get stuck with the 100th result rank, but with good SEO, you can be the first one ranking.
Becoming an SEO expert is not an easy task regardless if you are doing seo for squarespace vs wordpress. You can hire professional SEO experts that can cost you a lot. This is where your chosen website builder or plugins can help you.
Built in SEO vs Plugins
Squarespace has in-built tools that can boost your SEO. This includes incident automatic tagging, searchable pages, clean URLs, robot.txt, automatic redirects, canonical tagging, Google sitemaps, and more. All these features are integrated which means you do not need to download extra plugins. Squarespace does all of this for you, without any additional cost or effort from you.
WordPress also creates SEO friendly websites, but you need plugins for additional features. Some of the most popular WordPress plugins are for SEO. For instance, Yoast SEO has a five-star rating from over 22,000 reviewers and reviews with around five million active installations. This takes care of your SEO with powerful features.
Hence the question arises, which one- Squarespace vs WordPress is better? This majorly depends on the user. WordPress has more powerful tools with excellent SEO plugins but it's useless if you don't know how to use it. On the other hand, Squarespace has all built-in features to boost SEO, which does all the work for you and will guide you in the ones needed to be done by yourself. Either way, you won't be lagging on the 40th search page.
Squarespace vs wordpress: So which is better?
In the final verdict of Squarespace vs WordPress, we can say that WordPress is the better one for it's powerful features, although, Squarespace wins for beginners and its in-built tools. If you have the required skills, want higher quality tools, and are willing to spend a little extra money, WordPress is for you.
But if you're looking for in-built features, do not want to spend any extra money and are willing to compromise a little on the quality of the features, Squarespace is the right choice for you. And for good measure, Squarespace is trusted by celebrities like John Malkovich. But all in all, it's really up to you.